Saturday, July 30, 2011
Just in! End Result Of US Ethnocide: Report - Safest Place To Be a Black Man Is in Prison
Sarah Jaffe at AlterNet continues on where Robert Frank @ the Wall Street Journal leaves off (
Part One
)
Caption:
An auto lays on its side
and crowds gather after a bomb exploded
on Wall Street on Sept. 16, 1920. (Getty)
$230,000 For a Guard Dog: Why the Wealthy Are Afraid Of Violence From Below

As inequality in the US grows, the ultra-rich are pouring their spare cash not just into private jets, but into private security. Think there's a connection?

July 29, 2011
[ooo]
John Johnson, the owner of the
$230,000 (Attack) dog featured in the New York Times
, is a former debt collector. (
You can't make this stuff up
.) He sold his debt collection company three years ago, but still has not just one, but six highly—and expensively—trained "executive protection dogs." Harrison K-9 services, the trainers behind Johnson's pricey protection dogs, used to train dogs for elite military units like the Navy Seal team that raided Osama bin Laden's compound. The article doesn't say exactly how many dogs Harrison K-9 has provided for the world's rich and famous, but it does feature a quote from their head trainer saying she's trained "a thousand" dogs.
In addition to security systems, dogs and armed yachts, the security-conscious oligarch can hire a private spy company—
Jellyfish
, a spinoff of the notorious private security company
Blackwater
. Or what about their own personal drone? "
Smaller, private versions of the infamous Predator
" may be coming to well-heeled private citizens near you, according to the UK's Daily Mail. So far the private drones appear to only be for spying, but former Navy fighter pilot Missy Cummings told the Daily Mail, "It doesn't take a rocket scientist from MIT to tell you if we can do it for a soldier in the field, we can do it for anybody."
So why are the rich getting paranoid? After all, here in the U.S. it looks like they don't even have to worry about their taxes returning to Clinton-era levels, let alone cope with a truly significant change to their lifestyles.
Still, as the rich get richer, it seems, they get more and more worried about the rest of us coming for their wealth—and they're out to protect it by any means necessary.
David Sirota
has noted that "we're fast becoming a 'let them eat cake' economy," where ostentatious displays of wealth and arrogance seem to be an everyday occurrence as the rest of the country suffers.
A private jet traffic jam was big news
in the New York Times
last week, because the children of the uber-rich have to get to a Maine summer camp, and driving just won't do. Maine's Tea Party governor, Paul LePage, took some time off from limiting access to the vote and picking fights with organized labor to gloat over the jet traffic:
"Love it, love it, love it," Mr. LePage said of the private-plane traffic generated by summer camps. "I wish they'd stay a week while they're here. This is a big business." [More on jet jammin' at Crooks and Liars]
While the private jet crowd is "big business," the rest of Maine—and the country—is still suffering.
And maybe that's where the fear comes in...
We've seen revolution in Tunisia and Egypt, attempts in Libya, Syria, Yemen, unrest in Greece and Spain, student protests in England, and here at home the occupation of the capitol in Madison, Wisconsin. While nothing yet in the U.S. has approached the level of organized attacks on the wealthy by the have-nots, since the financial crash even the hint that perhaps private jet owners could pay a few more dollars in taxes has been
decried as class war
.
A few protests that actually dare approach the
doorsteps of the bankers
appear to be all it takes to stoke paranoia among the super-rich...
More @ AlternetSo it all comes down to this...
Is America Ripe for a Tahrir Moment?

Imagine … it's the dawn of the 13th day of the occupation … you're tired, not sleeping or eating too great … you've been harassed, maybe tear gassed and beaten. But when you look at your compatriots you see emancipation burning in their eyes. Bloomberg is threatening to call in the National Guard, Obama is hemming and hawing, but you are sitting tight because much of the nation is cheering you on. Al Jazeera and BBC are beaming your struggle to a captivated world and the tension is building for Obama to break his silence. It feels much like it did in Tahrir Square moments before Mubarak caved. More @ Adbusters

[Click the image to learn more... and bring a tent]
In the meantime, CrimethInc, the EX-Workers Collective, and your Auntie want you to know:
Crises like this are part of the protection racket that keeps them in business.
Economic crises are not natural disasters. They are brought about by the actions of bankers, officials, and developers, not to mention ordinary folks struggling to get by in a world we didn't choose. They appear beyond our control, but they are not inescapable facts of life.

For all the talk of collapse, capitalism itself is as healthy as ever. The fundamental relationships remain unchanged: employers and employees, politicians and voters, police and policed. Our masters may loan us cars or houses to pacify us, but we still lack control over our own lives.

Crises like this are part of the protection racket that keeps them in business.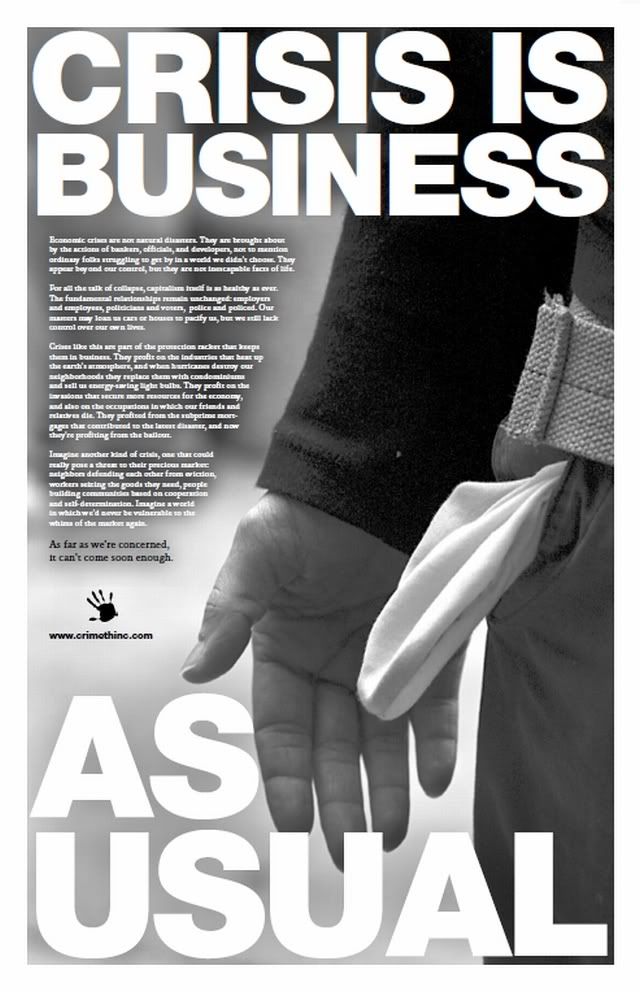 [Click the image for a full size PDF format poster]
They profit on the industries that heat up the earth's atmosphere, and when hurricanes destroy our neighborhoods they replace them with condominiums and sell us energy-saving light bulbs.

They profit on the invasions that secure more resources for the economy, and also on the occupations in which our friends and relatives die.

They profited from the subprime mortgages that contributed to the latest disaster, and now they're profiting from the bailout... In Full
Remember... They only call it Class War when we fight back
Take it easy, but TAKE IT!