Monday, March 8, 2010
"...and the more you watch, the less you do." ~

Jackson Browne, Information Wars



"From a marketing point of view, you don't introduce new products in August." ~White House chief of staff Andrew Card explaining why the (Iraq) War hype was postponed until the weeks immediately prior to the November 2002 elections.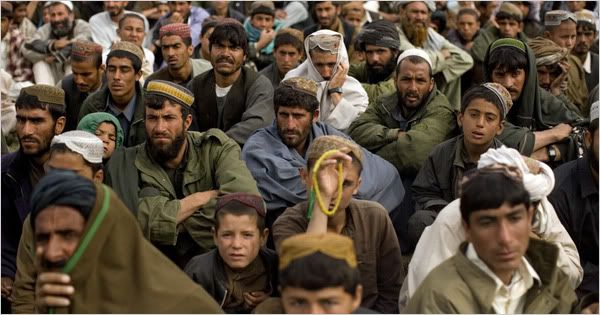 "The official admitted that the confusion about Marja's population was facilitated by the fact that the name has been used both for the relatively large agricultural area and for a specific location where farmers have gathered for markets.

However, the name Marja "was most closely associated" with the more specific location, where there are also a mosque and a few shops.

That very limited area was the apparent objective of "Operation Moshtarak", to which 7,500 U.S., NATO and Afghan troops were committed amid the most intense publicity given any battle since the beginning of the war.

So how did the fiction that Marja is a city of 80,000 people get started?

The idea was passed on to the news media by the U.S. Marines in southern Helmand. The earliest references in news stories to Marja as a city with a large population have a common origin in a briefing given Feb. 2 by officials at Camp Leatherneck, the U.S. Marine base there.

The Associated Press published an article the same day quoting "Marine commanders" as saying...

Fiction of Marjah as City Was US Information War @ t r u t h o u t
More... See this backgrounder... Wayyyyy Back to the 1950s, at Firedoglake:
"Little America" in Afghanistan: Is the US Repeating a Failed 1950's Experiment in Social Engineering?
For more recent history:
Yup… They LUV us out there: "Afghan flag-raising in NATO offensive draws gunfire"
Also:
Marja Afghanistan - Just Noting That We've Been Lied To About That "Cakewalk" Thing Again
Labels: Afghanistan, Dirty War, Disinformation, Lies, Marketing, Pentagon, Propaganda, Taliban