Friday, May 14, 2010
For a backgrounder see: "Rotten Apples - A Personal History Of The Computer Industry And The Myth Behind Apple Computer's "Hip-ness" @ Auntie's companion blog "Razed By Wolves"
To get started, download SnapScouts for any Android phone, create and account, and get Snapping!

Once you've found something suspicious or caught someone in the act, you can tag it to report what type of crime it or just to let us know it "Looks Suspicious".

After you've tagged it, you can enter the name and address of the people in the photo, too. The photo gets submitted to our super secret servers, where a team of trained security professionals reviews every image for possible illegal activity.

Find out more!
(Hey kids!) Want to earn tons of cool badges and prizes while competing with you friends to see who can be the best American? Download the SnapScouts app for your Android phone (iPhone app coming soon) and get started patrolling your neighborhood.
It's up to you to keep America safe!
If you see something suspicious, Snap it!
If you see someone who doesn't belong, Snap it!
Not sure if someone or something is suspicious? Snap it anyway!
Play with your friends and family to see who can get the best prizes.
Join the SnapScouts today!
SnapScout Features:
Colorful interface and sounds makes reporting a potential crime fun and easy!
Submit reports anonymously to stay safe and secure!
Help law enforcement collect evidence in real-time!
Collect a variety of awards and badges to compare with friends!
Makes civic duty and community fun!
Coming soon: Multi-crime tagging to catch more crimes at once!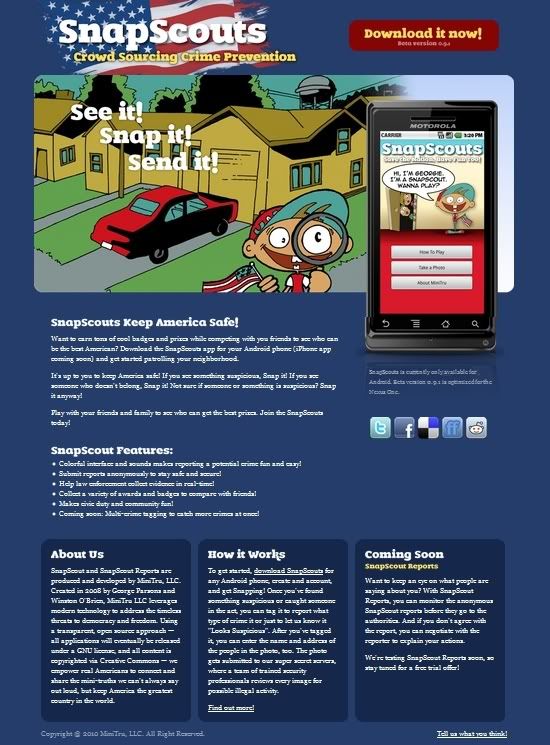 http://www.snapscouts.org/ (intentionally left unlinked)