Friday, December 24, 2010
From the humble beginnings of preaching at his portable pulpit on New York City subways, to having a congregation of thousands – Bill Talen (aka Rev. Billy) has become the leader of not just a church, but a national movement.

This movie is an examination of the commercialization of Christmas in America while following Reverend Billy and the Church of Stop Shopping Gospel Choir on a cross-country mission to save Christmas from the Shopocalypse (the end of humankind from consumerism, over-consumption and the fires of eternal debt.)

The film also delves into issues such as the role sweatshops play in America's mass consumerism and Big-Box Culture.

Watch in amazement as a group of pre-teen girls call a Big Box store's consumer 800 number and attempt to ascertain WHERE their clothes come from... and the operator's remarkable response.

(the operator hangs up on these perfectly polite children).

See the woman who has a walk-in closet full of designer clothes, for her dog!


See the Reverend attempt to exorcise the devil out of a WalMart checkout stand and witness the parking lot baptism of a small child who has yet to discern the manifold evils of consumerism.
[This Movie Is 1h 31m Long... Pop Out Player?]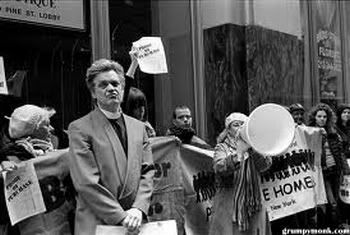 Billy and friends protest outside AIG Bank over
Mountaintop Removal Mining in West Virginia
Visit Reverend Billy's Life After Shopping Church
Film Source, Google
DVD Quality Torrent (4.15 gigabytes)
AVI Torrent (716 megabytes)